Once again the Mid Tipp Hillwalkers will support the Autumn Walking Charity Challenge this being the 50th Challenge. Leaders of the club are always happy to volunteer for this event and give of their time and skills to make it successful.
Weekend is taking place in Killarney, staying in the Castlerosse hotel from 13th to 15th October 2023. This weekend is open to everyone and if you would like more information  or be added to the mailing list you can email autumnspringchallenge@gmail.com
Below are all details of weekend.
THE 50th ANNUAL CHARITY CHALLENGE
October 13/14/15/ 2023
Killarney, Co Kerry
We are delighted to confirm that our Charity Challenge Weekend is going ahead for the 50th time this year - the first Challenge having taken place in April,1997.  To celebrate this anniversary, we will have a slide show on Friday night, featuring the history and highlights of this event through the years.  The weekend will be based in the 4-star, Castlerosse Hotel, Killarney, Co Kerry, a venue we have used very successfully on many occasions previously.
For Saturday, we have a programme of fully guided walks to suit all fitness levels as follows:
Ascend Carrauntoohil - Ireland's highest peak - 7 hours, difficult
Circuit above the memorable Gap of Dunloe   - 6 hours, challenging
Ascent of renowned Mangerton Mountain - 5 hours, challenging
Traverse over the summit of Torc Mountain - moderately challenging
Walk a captivating section of the sublime Kerry Way - 4 hours, moderate
Enjoy an easy nature ramble In Killarney National Park – 3 Hours, easy
On Sunday, there will be a ramble around a forest loop near Castleisland – which will make a lovely break on the return home.
The cost is €225 which includes weekend accommodation with breakfast on Saturday and Sunday and dinner followed by entertainment on Saturday evening.  A deposit of €100, payable before Sept 1, secures your place in the hotel.  There are limited single rooms at an additional supplement of €75 per person.  Please note that your name cannot be added to the rooming list until the deposit has been received.  The balance should be paid in full, 1 month prior to travel as there is no facility for collecting money on the weekend itself.  Bank Details as follows:
Account name:         Brid Hurley, Christina Bourke, Brid Ryan. Carmel Needham
Bank:​​AIB Bank, Liberty Square, Thurles, Co Tipperary
Sort Code:  ​​935301
Account number:   ​33163018
Bic:  ​​AIBKIE2D
IBAN:   ​​IE97AIBK93530133163018
Important:  Please clearly identify your name on the bank transfer narrative.  Without this we cannot include you on the hotel rooming list.  Also specify what type of room you require Twin, Double, SingleTriple. Please note; when lodging money, don't lodge to Mid Tipp Hillwalkers account as the Autumn Challenge is a separate account
So, please try to reserve the above dates for a most enjoyable and sociable event that supports worthy charities. For further information, please contact the members of the organising committee listed below.
Brid Ryan Bourke (086 8071753)
Tina Bourke (086 3565134)
Brid Hurley, (087 6360585)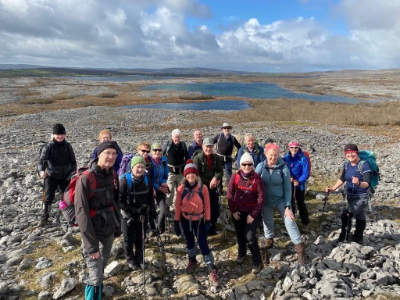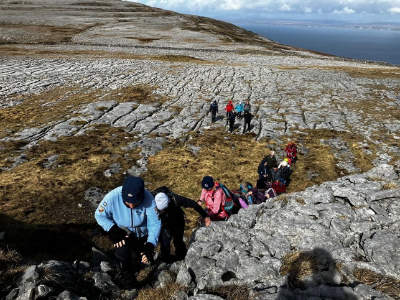 Earlier this year in March,  the club supported a charity weekend in Ennistymon  Co Clare. The walks consisted of The East Burren Peaks, Black Head and Gleininagh Mountain, Cliffs of Moher Coastal Path and a lovely nature walk in the Burren. Something for everyone, and the Sunday ramble ventured into Dromore Woods on the way home. Charities benefiting from the weekend are , Lyons Club , Thurles and Cashel , Enable Ireland and Down Syndrome Ireland , All worthy charities.